What comes to mind when you hear about fests, events, exhibitions, etc.—fun, music, food, entertainment, right?
But did you ever think of the waste generated in these events?
Yes, we're talking about the garbage behind the scenes of all the beautiful and shiny decorations.
So much food, kitchen, floral waste & other organic waste is generated in these events. And on top of it, they are hardly concerned about finding the best methods to treat the waste. Instead, they send the waste to landfills.
But think about it and tell us if it's a sustainable solution!
Reports suggest that only 20% of the total collected waste in India is processed. The rest, 80%, goes straight up to landfills, where it causes Greenhouse emissions.
Now, the question here is — Can we do something about it?
And, the answer is — Yes, we sure can!
Nowadays, technology is so flexible & innovative that you can do practically anything. So why not leverage it to deal with this garbage problem.
Well, it's not like the solutions are not there. However, lack of awareness is the central question here!
GoClean Composter — A Game-changer In Events
GoClean Composter is one of the finest organic waste reprocessing machines in India. Along with a wide range of capacity options (25 KG to 1000 KG), it has a super fast mechanism with which you can compost your organic waste into compost in 24 hours with 80% volume reduction.
It is suitable for societies, organizations of any size, schools, colleges, malls, NGOs, restaurants, hotels, and whatnot — Basically, every institution deals with tons of organic waste daily.
But, if you're an event company or someone who organizes events, you can also benefit from it. How?
It removes the hassle of dealing with organic waste later.
It also cuts down the cost of treating the organic waste produced.
You can also add it to the highlights of your services, as people nowadays are moving to sustainable celebrations.
Hunar Haat — A Proof of GoClean Composter's Excellence
We've been partnered with the Hunar Haat festival for almost 1 year now. During this journey, we've helped Hunar Haat go waste-free by installing our GoClean Composter units in their events across the country. These units were responsible for converting the organic waste generated in the event into compost.
GoClean composters, because of their efficiency & excellence, have made it to the news on several occasions.
Here are some of them:
Hunar Haat, Rampur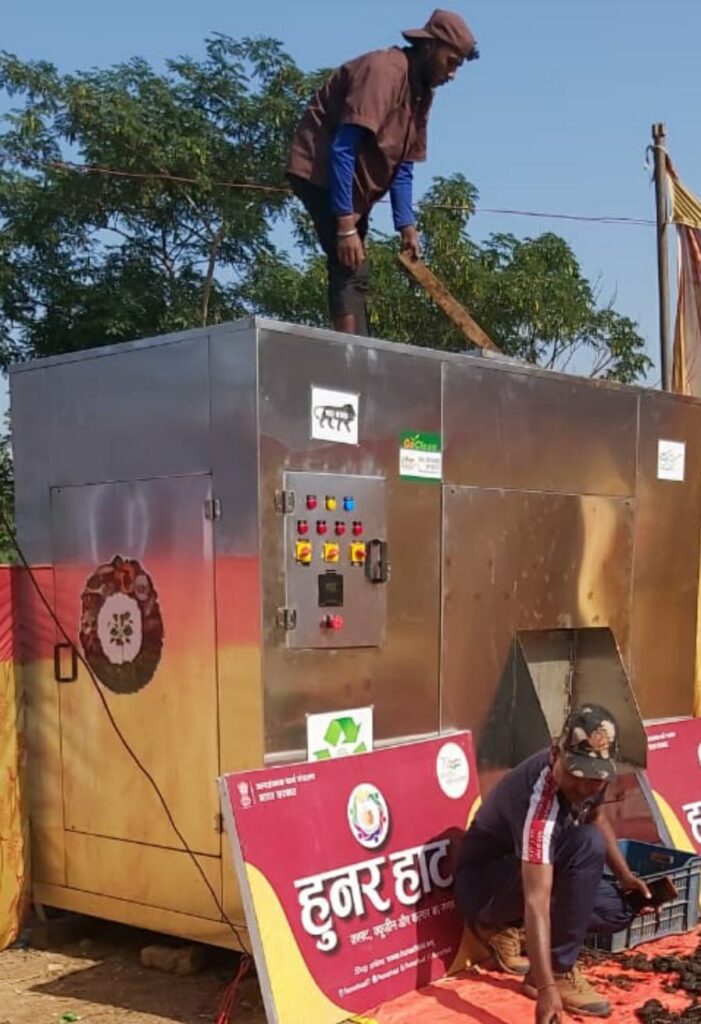 Hunar Haat, Mumbai
Hunar Haat Mathura
The primary purpose behind this strategic partnership with Hunar Haat was to educate the masses about the benefits of composting. In addition, by distributing the compost produced to the visitors, we made them aware of other ways to treat their organic waste instead of simply throwing it away.
Contact us today if you also want to make our GoClean composter the new highlight of your events.