"The greatest threat to our planet is the belief that someone else will save it." — Robert Swan OBE
Waste Management is a severe challenge that not only our country but the whole world is facing currently. It is leading the world to global phenomena like the Greenhouse effect.
We all think that only industrial pollution is responsible for it. However, if you dig deep down enough, you'll realize that our everyday waste management also contributes a significant volume to it.
You don't believe us. Right?
Well, here are some stats:
According to a 2011 report by FAO, "If food wastage were a country, it would be the third-largest emitting country in the world."
Also, a separate study shows that 8 Million Tonnes of flowers are being offered at temples/mosques in India every year. And almost all of it is then thrown either into rivers or garbage.
Now you've got the picture. Right?
So yes, there should be laws in place to keep industrial pollution in check, but we should also consider managing our waste properly & effectively so that at least the other part of the problem is solved.


Read Also: Know about the Services Provided by Clean India Ventures
Changing the way waste is perceived
At Clean India Ventures, we believe that if it is the same air that we breathe, the same soil that we walk on, and the same water that we drink, similarly it's the responsibility of each & every individual to protect these treasures at all cost.
However, later down the road, we realized that it is challenging to change these behaviors at the organization level as there would be multiple investments involved — Time, money, resources.

How does CIVL chip in?
To promote proper waste management at the organizational level, we have introduced the GoClean organic waste converters.
GoClean Converters are designed for organizations of all sizes to manage their organic waste properly without investing much of their time, money & resources.
Since our inception, we've helped many organizations to move to a sustainable future with our GoClean composters. First, we'll talk about some of the key places where our units have been installed, but before that, let's understand the key highlights of our GoClean converters.

Key highlights of GoClean organic waste converters
GoClean Converters are designed to turn organic waste into various by-products.
For example, if you're putting kitchen & food waste into it, it'll give you compost as an end-product.
Similarly, if you put the floral & organic temple waste, it'll give you incense fuel sticks or havan samagri as by-products.

Read Also: Food Waste Management in India: Measures you can take


Some other key highlights are:
Capacity: It comes in a wide range of capacity starting from 25 KG and goes upto 1000 KG. It provides the flexibility to organizations to choose as per their needs.
Automatic: Its automatic functionality helps you treat your organic waste with minimal manual effort.
Efficiency: GoClean converters convert the organic waste into compost & other end-products within 24 hours.
Safety: Features like the Emergency switch to stop the machine, Motor Overload protection feature, Temperature control, etc., make it safely operable.

Notable Places where our unit is installed at :

Statue of Unity, Gujrat

Baba Baidyanath Dham, Jharkhand

Badrinath Temple, Uttarakhand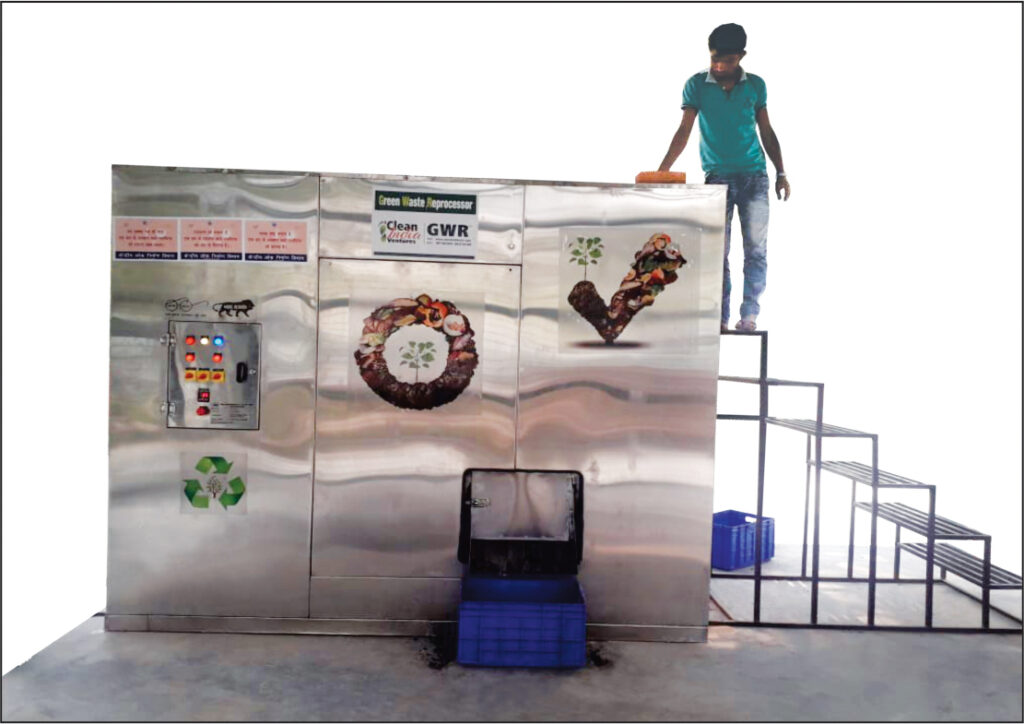 GST Headquarters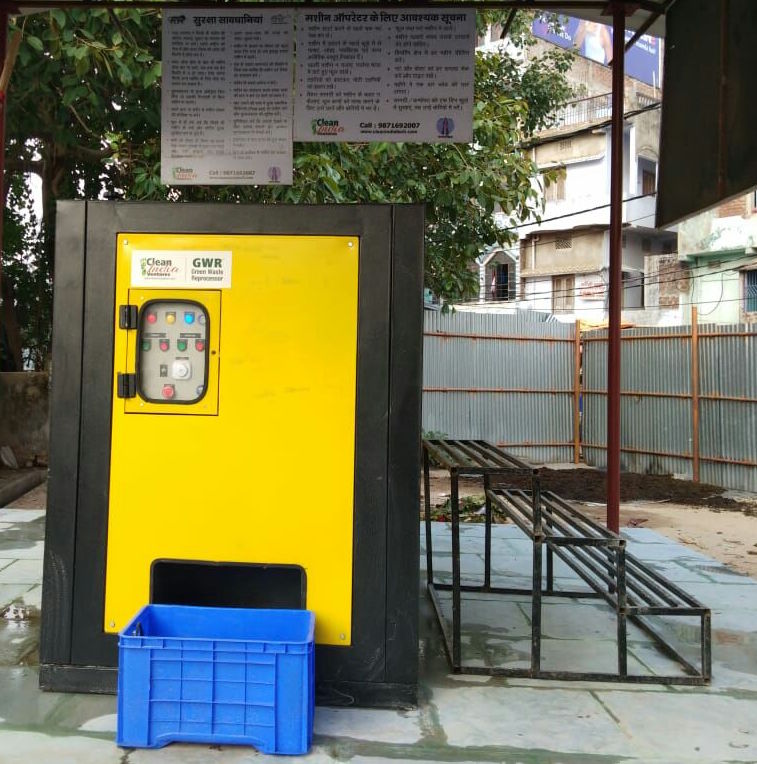 Govt. Officers' Colony, Sector-14A (Noida)

JPRA Colony, Ghaziabad (UP)

Nigambodh Ghat, Delhi.

Hunar Haat, UP

Time Residency, Sec-63 (Gurgaon)

Our Vision
Our organic waste converters not only help reduce greenhouse emissions by reducing the load from the landfills, but the resulting compost also replenishes the soil with the essential nutrients needed to maintain biodiversity.
We aim to shift the way waste is perceived in our country. By making our GoClean Organic waste composter available to every institution and locality, we want to make aware & educate the masses about the importance of waste management methods like composting.
If you want to be a part of our journey, click here.